Parent Teen Mindset Show podcast supports parents who struggle with teens & young adults. We cover topics to help parents with practical approaches to communicating and raising their teenager in our challenging post-Covid world. Topics include: depression & anxiety, conscious parenting, mindset for teens, self care for parents and teens, impacts of cell phones and social media, video game addiction, drug and alcohol abuse, health and wellness, trauma and abuse, youth wellness, grief, and many more.
Episodes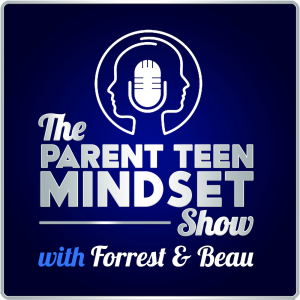 Monday Jan 04, 2021
Monday Jan 04, 2021
Welcome to the very FIRST kick-off episode of The Parent Teen Mindset Show with Forrest & Beau!
Forrest and Beau welcomes guests LIVE to discuss the problems teens face in a post pandemic world and also use the opportunity to outline the importance of MINDSET as a foundation in the lives of our teens and young adults.
You also get to hear from Forrest and Beau as to WHY they have chosen to do this show and you'll learn about their backgrounds as troubled teens who've grown into successful entrepreneurs and mindset coaches committed to helping others in their journey. 
Please share this episode, tell a friend, and join the private Facebook group: Parents of Awesome Teens with Anxiety, Depression, or Low Self-Esteem.  Click here to join the group: https://www.facebook.com/groups/769627427084770
Thank-you for listening to the Parent Teen Mindset Show!
Please join our private Facebook group for more support with your teen here: Parents of Awesome Teens with Anxiety, Depression, and Low Self-Esteem
If you need help or coaching for your teen, go here: https://www.parentteenmindsetshow.com/p/coaching/
To become a Patron of the show, click here: https://patron.podbean.com/theparentteenmindsetshow
Corporate team building or non-profit company?  Go here: https://connectivehuman.com