Parent Teen Mindset Show podcast supports parents who struggle with teens & young adults. We cover topics to help parents with practical approaches to communicating and raising their teenager in our challenging post-Covid world. Topics include: depression & anxiety, conscious parenting, mindset for teens, self care for parents and teens, impacts of cell phones and social media, video game addiction, drug and alcohol abuse, health and wellness, trauma and abuse, youth wellness, grief, and many more.
Episodes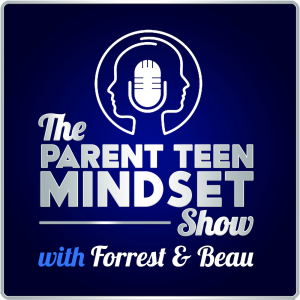 Monday Feb 08, 2021
Monday Feb 08, 2021
Suicide Attempt, Trauma, and Living the Warrior Code a Personal Story with Scott McDermott
Tonight at 5pm on "Forrest & Beau LIVE" on Facebook LIVE, featuring special guest, UltraMan Athlete and award-winning documentary film star, Scott McDermott.
TOPIC: The Warrior Code Mindset - How to Develop a Mindset of Success in the Teenage Years and Beyond.
We'll go LIVE at 5pm PST, see you then!
We'll also be answering YOUR questions from the FB posts from today and recent days, thanks for being a part of the conversation.
FYI, Beau and I have teamed up with a commitment to helping parents, teens, families, and communities with MINDSET STRATEGIES, TIPS, INTERVIEWS, AND RESOURCES for you, the parent, so you can have better communication and a healthier relationship with your teen, and as a result have more happiness, fulfillment, gratitude, and peace in your household.
Check out Scott's award winning documentary film! 
Here is Scott's bio:
After getting fit and finding his passion in life after 13 year career in Architecture that had him overweight, sick and stressed,  Scott McDermott built a 15,000 square foot gym; Best Body Fitness in 2002.  Scott wrote a book about health and fitness called "If Your Body Were a Car, You Wouldn't Treat it This Way", as well as a fitness journal and a recipe book.  Since getting back in shape, Scott has enjoyed an amazing journey and after deciding to try out the Sylvan Lake Half Ironman Triathlon to see if he could finish it, he qualified for Ironman Canada.  Within a few years he was representing Canada at the World Championships in Holland and Australia as well as racing all over Canada and the USA.  4 Ironmans and 2 long course world championships later, Scott decided to attempt a triathlon 2.5 times longer than Ironman, called Ultraman.  At the 2011 Canadian Ultraman Championships, he crossed the line in 6th place overall, only 20 minutes form 2nd in a 3 day race spanning 520kms.  He has since completed the Ultraman World Championships several times, including a 21st overall  finish in 2013.  He has ridden a bike 400 kms in one day for Cancer research several times, ridden a mountain bike 700kms to Montana along the great continental divide, and completed every Spartan Distance including an Ultra Beast (a 50km run on a ski hill full of obstacles) in addition to ultra marathons and a total of 7 Ironmans, plus too many Half Ironmans to count.  In November 2015 Scott was racing at the Ultraman World Championships again and crashed his bike at close to 70 kilometers per hour, breaking many bones including his shoulder, arm, ribs and skull.   It nearly cost him his life.  He has made a remarkable full recovery and raced again 3 years later in November 2018, placing 25th in the world while filming the process for an award winning documentary; "Living the Warrior's Code".
Scott is very active in Rotary, serving on 3 missions to deliver wheelchairs and has been President as well as Rotarian of the Year.  Scott has been awarded Sylvan Lake's Citizen of the Year twice and Business of the Year Twice as well.  He hosts the Annual Terry Fox Run, and has organized the BBF Sprint Triathlon, Zombie Run, Father's Day Run, Sylvan Lake Half Ironman, Amazing Race Sylvan Lake and more.  Having shut down Best Body Fitness in March of 2020 forever, Scott is now focused on his long time passion of being a professional speaker and working to get his documentary out on streaming to the world, as well as writing a book about the experience.
We'll be doing these LIVE shows now on a weekly basis to support YOU, the parent, so thanks for being a part of this!!